After nearly two years of being in business, Thumb Coast CBD continues to grow — quite literally, in fact. The family-owned business recently celebrated the opening of their second location, a storefront in Fort Gratiot's Birchwood Mall.
Thumb Coast CBD is owned by the wife-and-husband team of Mara and Kyle McCalmon, as well as a few extended family members. It's from their St. Clair County farm where the McCalmons started growing hemp plants, first intending to sell the plants before deciding to make their own CBD products themselves. They would go on to open Thumb Coast CBD in the St. Clair Riverview Plaza in January 2020.
[Read more about the Thumb Coast CBD story in "From seed to sale: Local hemp farmers open CBD store in the St. Clair Plaza" in The Keel.]
CBD, which is derived from hemp plants but lacks the "high"-inducing THC compound commonly associated with marijuana, has a host of health benefits, alleviating pain and other ailments. Thumb Coast CBD makes and sells a variety of such products, including CBD lip balms, body lotions, bath bombs — there are even CBD-infused pet treats.
They've proven so popular that the McCalmons decided it was time for a new location, opening in the Birchwood Mall this November. Kyle says he noticed that many of their customers were already making the drive from Port Huron and Fort Gratiot, so maybe it was time to open a second location closer to them.
He credits the company's growth to their attention to quality and meeting the needs of their customers. It's about trust.
"I think it's been to our benefit, being from the area. People know us and as they got more familiar with the store, they could trust what we were selling. CBD is still a pretty unregulated market and there are a lot of bad actors out there. We've developed trust with people in the area," Kyle says.
"Our products are tested in a third-party lab, they're certified by the state. We're striving to put out the best products we can. We're not in it to make the most money possible."
Kyle cites Alan Mulally's time as CEO of Boeing as an inspiration, saying that if you focus on quality first, the money will follow.
Much of Thumb Coast CBD's role is in education, he says, helping customers determine the right amount of CBD dosage that works for them. Each person is different, and more isn't always best. Kyle likes to recommend that customers start low and build from there.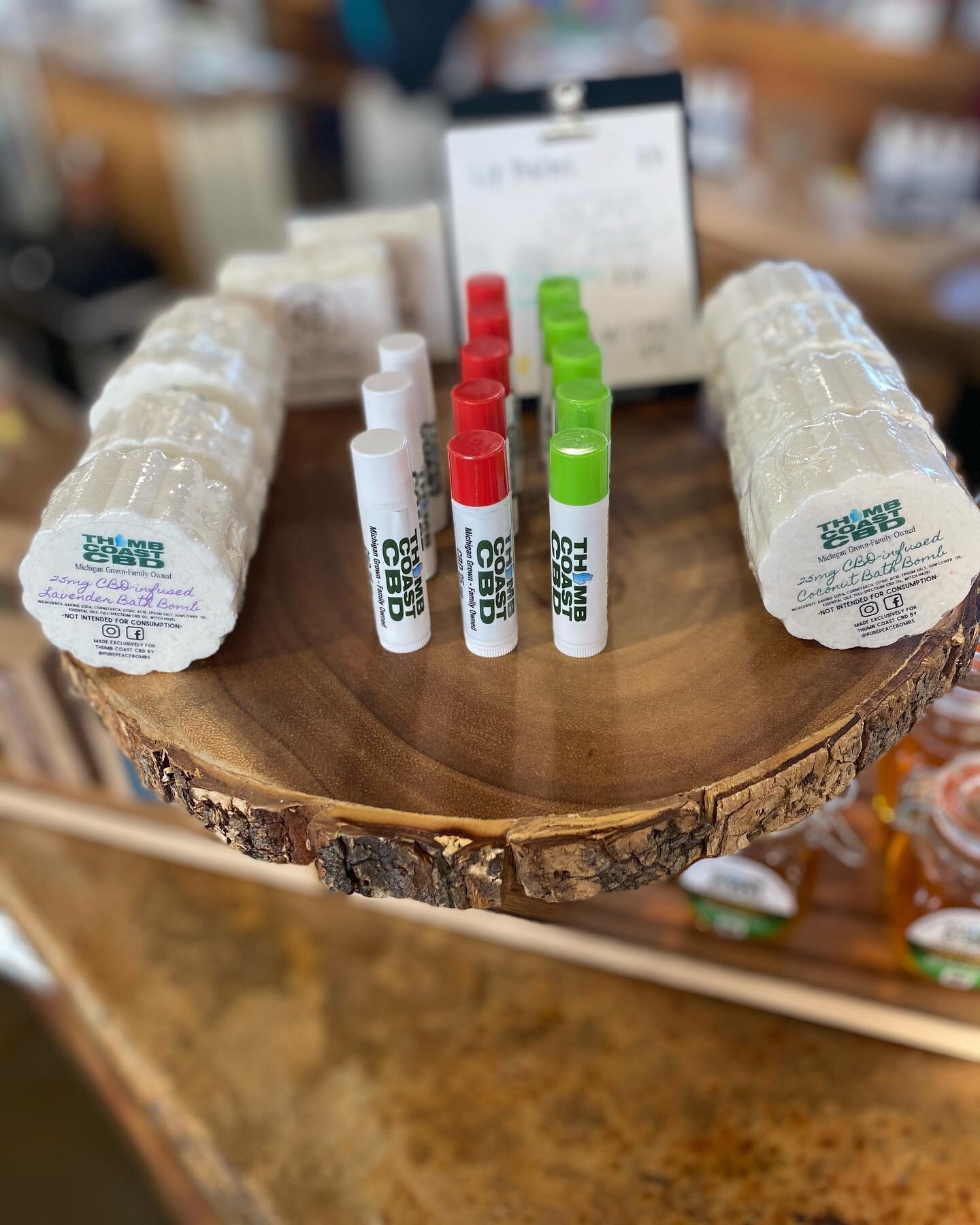 Thumb Coast CBD makes and sells a variety of their own products, including CBD lip balms, body lotions, and bath bombs. (Photo: Facebook)"People that come into the store, when they're in pain and trying to alleviate that pain, they can be desperate and want to start with the highest dose. But that's not always the most effective treatment," he says.
Kyle, for his part, is also regularly educating himself, attending physician-led classes online to stay up-to-date. As for the business, upcoming projects include new signage and an updated website to further increase online sales.
But for the McCalmons, the growth happening on their St. Clair County farm is just as important as growing the business itself. And helping their customers? Even moreso.
"Our main concern is making sure that we have quality products," Kyle says. "Money comes second."
Thumb Coast CBD is now open in the Birchwood Mall in Fort Gratiot, as is their original location in the St. Clair Riverview Plaza.